West Lake in Hangzhou — Paradise on Earth
Hangzhou is renowned as China's "paradise on earth" owing to its beautifully crafted landscape. West Lake was created after the Chinese love for garden-style parks for recreation.
West Lake is a place of tranquility where urbanity becomes a silhouette on the northeast horizon and mountains near and far surround it on the other three sides. The occasional pagoda and Chinese-style arched bridge add atmosphere to the tree-lined walkways, verdant islands, and hills.
To admire the beauty of West Lake, visitors can leisurely bike around the lake, walk around the lake, or take a short cruise on the lake.
Top 10 Beautiful Places of West Lake
West Lake is quite a big lake and you can see different classic scenes from different locations. Long ago people named the Ten Scenes of West Lake and Emperor Qianlong marked each with a four-character inscription 200 years ago. Every scene has its own iconic features.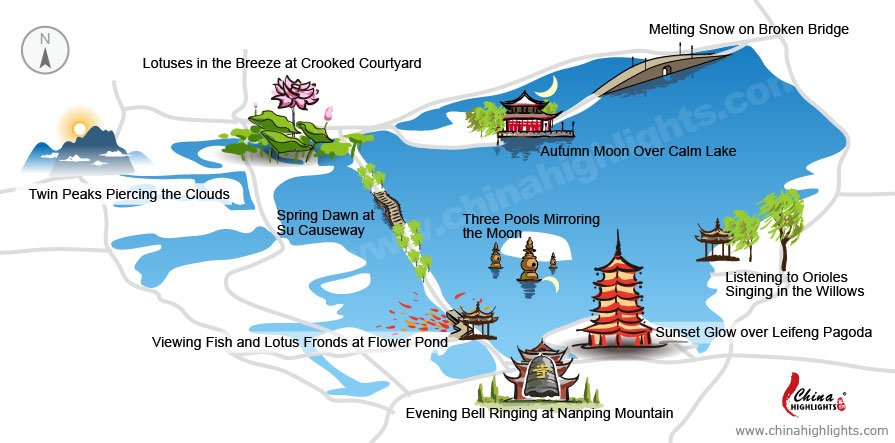 1. Spring Dawn at Su Causeway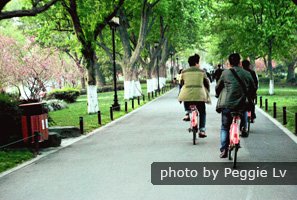 Biking on Su Causeway
Bus 507, 507, K4, or Y2 to Sudi (苏堤 /soo-dee/ 'Su Causeway')
Best time: March and April for peach blossom
Popular activities: walking and biking on the causeway
Chinese: 苏堤春晓 Sūdī Chūnxiǎo /soo-dee chwnn-sshyaoww/ 'Su Causeway Spring Dawn'
Spring Dawn at Su Causeway tops the list of the ten best known scenes in Hangzhou for beauty. When spring comes, the whole causeway is blanketed by peach blossoms and weeping willow catkins, creating an especially charming scene.
The causeway was built during the Northern Song Dynasty by Su Dongpo (1037–1101), a great scholar and famous poet, and was named after him. Stretching 2.8 kilometers (1.7 miles), it includes six bridges and is heavily sheltered by green vegetation.
2. Lotus in the Breeze at Crooked Courtyard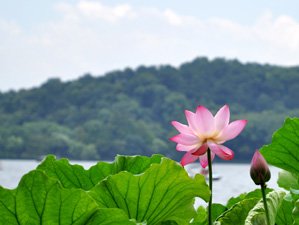 Lotus blossoms
Bus 507 or 15 to Quyuanfenghe (曲院风荷 /chyoo-ywen fnng-her/ 'Crooked Courtyard Wind Lotus')
Best time: June, July, and August for lotus flowers
Chinese: 曲苑风荷 Qūyuàn fēnghé /chyoo-ywen fnng-her/ 'Crooked Courtyard Wind Lotus'
This was a "scene of scents". Crooked Courtyard was the location of a winery, and the scent of lotus flowers and wine, to which was added the scent of the cool breeze from the lake, was said to be positively intoxicating.
Though the winery is no more, the cool evening breeze from the lake still blows and the lotus plants still thrive along the shores of Crooked Courtyard, which has been converted into a public park.
3. Autumn Moon over Calm Lake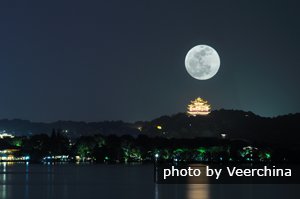 Bright moon in autumn
Bus 7, 51, 52, or K7 to Duanqiao (断桥 /dawn-chyaoww/ 'Broken Bridge'), then walk or take a boat
Best time: nights with a bright moon
Chinese: 平湖秋月 Pínghú qiūyuè /ping-hoo chyoh-ywhere/ 'Calm Lake Autumn Moon'
This scene is seen from the western end of Bai Causeway. In the 1½-acre (0.6 ha) garden there, plants and flowers intermingle with pavilions and platforms.
The teahouse with its cement terrace, bounded on three sides by water, became one of the traditional places to view West Lake, especially on Mid-Autumn night when the moon is full and bright. So its view was named "Autumn Moon on Calm Lake".
4. Melting Snow on Broken Bridge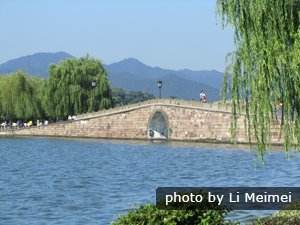 Broken Bridge
Bus 7, 51, 52, or K7 to Duanqiao
Best time: winter with snow melting (seldom seen now)
Chinese: 断桥残雪 Duànqiáo cánxuě /dawn-chyaow tsan-sshwair/ 'Broken Bridge Stricken Snow'
The most romantic, in origin, of the ten scenic sights is surely Melting Snow on Broken Bridge. According to "The Legend of the White Snake", Broken Bridge is the site where two lovers met and fell madly in love. The beautiful maiden was actually a white snake.
Broken Bridge is not really broken, but is a traditional arched stone bridge. Snow melts on the north side of the bridge first, as the south side is in shade, giving the bridge a split image. Viewed from a distance, it looks as if one half of the bridge has been ripped off, since the snowy side blends perfectly in with the surrounding landscape (hence the bridge's name).
5. Listening to Orioles Singing in the Willows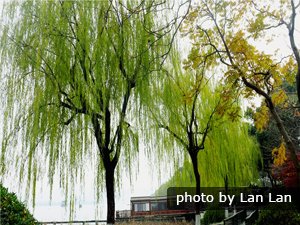 Willows along lakeside
Bus K4 or 38 to Qingbomen (清波门 /ching-bor-mnn/ 'blue waves gate')
Best time: summer, before the orioles migrate
Scenic Bonus: It's the best place to admire the scenery of the lake surrounded by mountains on three sides.
Chinese: 柳浪闻莺 Liǔlàng wényīng /lyoh-lung wnn-ying/ 'Willow Wave Hear Orioles'
This sight is on the southeast of West Lake. During the Southern Song Dynasty (1127–1279) an imperial garden— was built on this site. It featured especially weeping willow trees — almost always the perfect complement to a waterscape.
The imperial garden has since become a public park, replete with pavilions, bridges and lawns, and of course the orioles still visit the willows, where they sing as beautifully as when the emperor came here to listen to their song.
6. Viewing Fish and Lotus Fronds at Flower Pond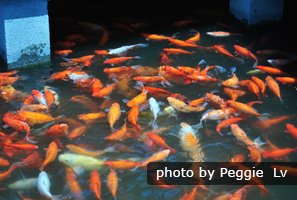 Goldfish in Flower Pond
Bus K4, 308, or 504 to Sudi
Best time: summer, when the lotuses bloom
Chinese: 花港观鱼 Huāgǎng guān yú /hwaa-gung gwan yoo/ 'Flowery Harbor Watch Fish'
This is the scene of a popular leisure activity. It's the best site to see and feed the fish of West Lake, at the southern end of Su Causeway. A stream flows from Huajia Hill to join West Lake there, and many flowers grow where the fresh water flows in, so it was called "Flowery Harbor".
This area has been made into a 22-ha (54-acre) park with many varieties of trees and flowers, featuring a peony garden which blooms in April, and a goldfish pond which is the famous site for viewing fish.
7. Sunset Glow over Leifeng Pagoda
Sunset of Leifeng Pagoda
Bus K4 to Jingsi
Best time: dusk, when it's not too cloudy
Chinese: 雷峰夕照 Léifēng xìzhào /lay-fnng sshee-jaoww/ 'Thunder Peak Dusk Glow'
Sunset Glow over Leifeng Pagoda is the classic West Lake sunset view, with West Lake in the foreground, the pagoda central, backed by mountains. Leifeng Pagoda is on the south of West Lake. View it from Changqiao Park (长桥公园) or Xueshi Park (学士公园).
8. Twin Peaks Piercing the Clouds
Bus 7, 27, or 807 to Hongchunqiao (洪春桥 /hong-chwnn-chyaoww/ 'Hongchun Bridge')
Best time: morning, when clouds or mist wreath the mountains
Chinese: 双峰插云 Shuāng fēng chā yún /shwung fnng chaa ywnn/ 'Twin Peaks Piercing Clouds'
Most visitors to West Lake are so fascinated by the lake itself that they often don't notice the surroundings.
Visitors are advised to also lift their gaze from the lake's surface and behold the view on the other side of the lake. There one is rewarded by the sight of two mountain peaks, five kilometers (three miles) north. On days with low-lying clouds or fog these two taller peaks pierce through the vapor.
9. Evening Bell Ringing at Nanping Mountain
Bus K4 to Jingsi (静寺 /jing-srr/ 'quiet temple')
Best time: dusk, when the big bell is rung
Chinese: 南屏晚钟 Nánpíng wǎn zhōng /nan-ping wann jong/ 'South Screen Evening Bell'
This sight, like most of the other sights at West Lake, is to be enjoyed to its fullest under certain specific conditions.
Evening Bell Ringing at Nanping Mountain, as the name suggests, is to be enjoyed at dusk, when the sun slowly sets, its softened rays casting their multi-colored reflections on the surface of the lake. At this hour the huge bell of Jingxi Temple peals.
Its clear, forceful sound reverberates across the lake, amplified in the still evening air. It calls for humility and reminds Buddhists of their age-old religious heritage. Indeed, it reminds anyone who experiences this beautiful setting of his or her ultimate smallness.
10. Three Pools Mirroring the Moon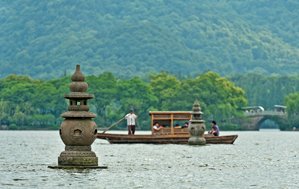 Three Pools Mirroring the Moon
Take a boat from 80 yuan (13 USD)
Best time: morning and late afternoon, or a moonlit Mid-Autumn night
Chinese: 三潭印月 Sāntán yìnyuè /san-tan yin-yhwere/ 'Three Pools Mirror Moon'
Three miniature stone pagodas in the lake itself are the centerpiece of the scene "Three Pools Mirroring the Moon". West of Three Pools Mirroring the Moon Island stand the rounded hollow stone pagodas, with five round holes like windows around the top and bottom levels. They were built over 800 years ago and are 2 meters (6½') in height.
On the night of the Mid-Autumn Festival, when the moon shines full and bright in the sky, a candle is lit inside each of the pagodas. The light from the holes and the moon cast their reflections on the water, hence the name.
This scene is on the back of the one yuan bill, and so it is the most famous.
Tour the Ten Scenes with China Highlights
If you are planning a tour of the Ten Scenes of West Lake, we suggest you to combine it with other famous sights near West Lake. See our 2-Day Hangzhou Essential Tour for inspiration. Or just contact us to tailor-make a West Lake tour.
How to Plan a Great Hangzhou Tour Easily
Hangzhou's beautiful scenery is "paradise on earth", and the setting of romantic legends (The Butterfly Lovers and Legend of the White Snake). For travelers who have never been to this beautiful place, we provide this guidance on planning a Hangzhou tour.
When to Go to Hangzhou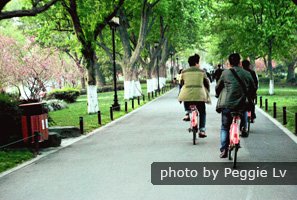 Cycle on Su Causeway in Spring.
Spring (March–May) — Best Time
Spring is the best season to visit Hangzhou. With the flowers blooming, spring makes Hangzhou more beautiful. It's a good season to walk along West Lake and go boating in nearby water towns to enjoy the spring scenery. Prepare well for rainy weather, and avoid the May 1–3 holiday.
Summer (June–August) — hot and busy
The average high is over 30°C (86°F) in Hangzhou's summer, and the school summer holidays are the most crowded part of the peak season. It's not a good time to travel. But the lotuses blossom in West Lake is blooming, making West Lake more attractive.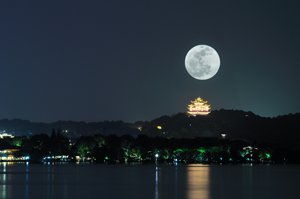 Appreciate moonlit evenings around Mid-Autumn Festival.
Autumn (September–November) — cool, tidal waves…
Fall offers cooler weather. The biggest highlights of autumn are the most spectacular Qiantang River tidal waves, and classic spots to enjoy moonlit evenings around Mid-Autumn Festival. Avoid the October 1–7 holiday.
Winter (December–February) — cold, quiet, plum blossom
Winter's top benefit is that it's quietest in Hangzhou. Plum blossoms are in their most beautiful season. But winter in Hangzhou is very cold. The temperature can drop below zero. Avoid the Chinese New Year travel rush.
Highlights to Put on Your List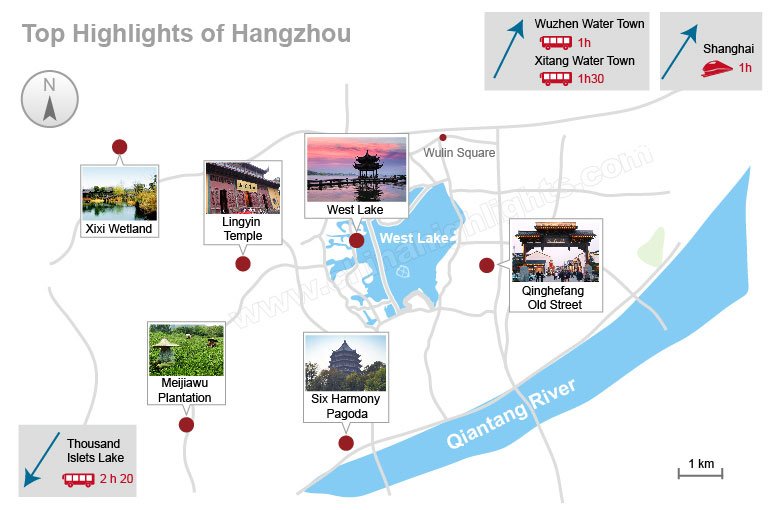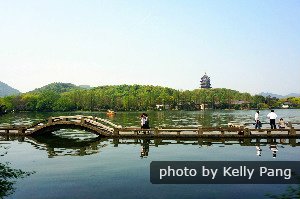 West Lake
West Lake
West Lake is the most famous attraction of Hangzhou and is considered one of the most beautiful sights in China. It's a large man-made lake, with ten famous sites to appreciate different scenery at different times, such as Three Pools Mirroring the Moon, Su Causeway, Broken Bridge, and Lotus in the Breeze at Crooked Courtyard.
Time needed: 2–3 hours
Activities: biking, walking, and boating
Lingyin Temple and Peak Flown From Afar
Lingyin Temple is just 3 km (2 mi) west of West Lake. 'Soul's Retreat' Temple is a very peaceful place, and one of the most important Buddhist temples in China. Lingyin Temple has plenty of Buddhist relics and nearby Peak Flown From Afarhas Buddhist grottoes and rock carvings. These are great cultural treasures.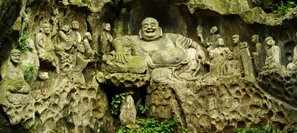 Buddhist grottoes on Peak Flown From Afar
Open: 7:30 am – 5 pm
Time needed: 2–3 hours
Entry: 45 yuan (7.5 USD) for Peak Flown From Afar Scenic Area. 30 yuan (5 USD) for Lingyin Temple.
Impression West Lake
Impression West Lake is a live show at night on West Lake. Hundreds of dancers perform on lifting platforms with music and light. This 1-hour show tells a beautiful but sad story with five acts. Enjoy the show, and appreciate the night view of West Lake.
Showing:7:45 (April to October) or 7:15 (March, November, December)
Extra show: 9:15–10:15 (on public holidays)
Winter closure: January–March
Tickets: 260–600 yuan (42–97 USD)
Six Harmonies Pagoda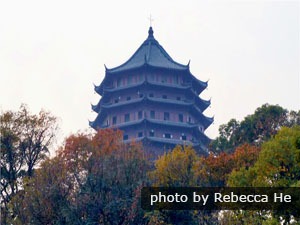 Six Harmonies Pagoda
Six Harmonies Pagoda stands by the Qiantang River. It has 13 stories and is about 60 meters (197 feet) tall. It's said that this pagoda was built to suppress the evil thought to cause the river's tidal bore, best seen from Haining.
Open: 6:30 am–5:30 pm
Time needed: 1–2 hours
Entry:20 yuan (3.5 USD) for the park, 10 yuan (2 USD) more for the pagoda.
Qinghefang Old Street
Qinghefang Old Street is just 10 minutes' walk east of West Lake. It used to be the most prosperous street of Hangzhou in ancient times. You can taste local food in the restaurants, and buy souvenirs and Chinese tea. There is a Chinese medicine museum called Huqingyu Pharmacy Hall.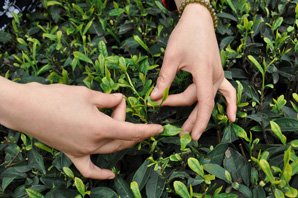 Learn how to pick tea leaves in Meijiawu Plantation.
Meijiawu Tea Plantation
Meijiawu Tea Plantation is renowned as one of the most important producers of Longjing tea (Dragon Well tea, one of the most famous teas in China). The tea plantation covers an area of more than 800 square kilometers (500 square miles). You can learn how to pick tea leaves. You can see the process of creating Longjing tea and experience Chinese tea culture.
Location: 10 kilometers southwest of West Lake, 20 minutes' drive
Best time: March and April
Time needed: 2–5 hours
Take an Extra Day to Discover Water Town Life
If you want to experience Chinese water town life, put Nanxun Water Town in your itinerary. It requires one day.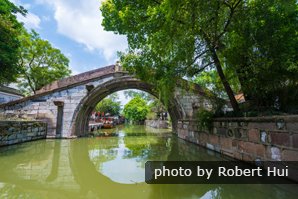 Nanxun Ancient Town
Nanxun Water Town is about 1 hour's drive from Hangzhou. It is not as famous as Wuzheng and Xitang. It is thanks to this, that Nanxun is the most original and picturesque town, filled with tranquil ambiance.
The town's highlights are numerous bridges, ancient lanes, and ancient buildings combining traditional Chinese and Western architecture.
Our 5-Day Shanghai, Hangzhou and Watertown Culture Tour
Where to Stay
There are two main areas to stay in Hangzhou:
By West Lake
Ideal for going to West Lake and other nearby attractions
Most hotels at the lakeside are expensive 5-star hotels. You can appreciate the fantastic West Lake view from the comfort of your hotel.
Four Seasons Hangzhou at West Lake ranks 2 on Trip Advisor for Hangzhou hotels. It's at the northwest side of West Lake near Su Causeway.
Wulin Square
Hangzhou's commercial center, convenient for attractions and the airport
Wulin Square is about 3 kilometers northeast of West Lake. You can find many upscale boutique stores, big brand stores, and discount stores there. Tour buses depart from Wulin Square and the airport bus stops there.
The East Hotel Hangzhou ranks 3 for Hangzhou on Trip Advisor. It's very convenient for shopping malls and West Lake. It's about 15 minutes to Su Causeway by taxi. Many public buses go to other attractions.
How to Get to Hangzhou?
By Bullet Train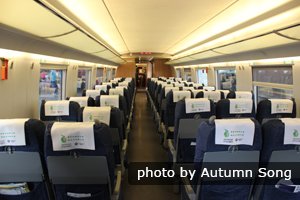 Take a comfortable bullet train to Hangzhou.
Suzhou/Shanghai–Hangzhou: around 1 hour and 50 yuan (8 USD). The bullet train makes it possible to travel to Hangzhou from Suzhou/Shanghai and come back in one day. The journey is around 2½ hours by bus for about 70 yuan (11.5 USD).
Read about how to plan a Shanghai to Hangzhou train trip.
Find out how to travel Shanghai, Hangzhou and Suzhou by train.
Beijing–Hangzhou: about 5½ hours
Guangzhou–Hangzhou: around 7 hours
There are many bullet trains from the main cities to Hangzhou. Our China Train Ticket Service has all you need to plan and book a trip.
From Hangzhou Station you can take bus Y2, K7, 11, or 151 to West Lake. Hangzhou East Station is less convenient.
By Air
Major tourist cities Beijing, Xi'an, Guilin, and Guangzhou are about 2 hours away.
Hangzhou (Xiaoshan) Airport is about 30 kilometers (19 miles) east of Hangzhou city. It takes about 50 minutes from the airport to city center by taxi.
The airport bus costs 20 yuan (3.5 USD). It stops at Hangzhou Station (杭州城站), Hangzhou Grand Metro Park Hotel (杭州维景国际大酒店), and Wulinmen Civil Aviation Ticket Office (武林门民航售票处). Airport buses depart regularly:
07:30–09:30 and after 21:00 (every 30 minutes)
09:30–17:00 (every 15 minutes)
17:00–21:00 (every 20 minutes)
For West Lake get off at Hangzhou Station and take bus Y2, K7, 11, or 151.
Other Hangzhou Transport Information
See our lowdown to transport in and around Hangzhou.
Our Hangzhou Tours for Your Inspiration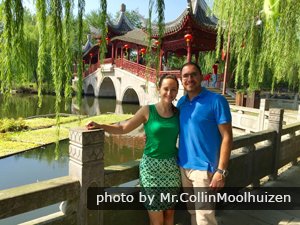 Tour Hangzhou with China Highlights
Based on years of experience and customer feedback, we have developed many Hangzhou tours. Here are some popular tours for inspiration:
2-Day Hangzhou Highlights & Grand Canal Heritage Tour: Visit a Dragon Well tea plantation, and explore Grand Canal and West Lake by cruise.
5-Day Shanghai, Hangzhou and Watertown Culture Tour: This tour offers the best of the three most important cities in the Yangtze Delta.